Users are first priority
The real value of a "space" is not itself, but comes from the things that happened in the space.
A cozy home do not need luxurious interiors, but caring family members; unforgettable restaurants do not have the most high-end environment, but an addictive taste.
Our Background
Chenglv SPACiE is affiliated to Chenglv Enterprise Management Consulting Co., Ltd., which is a subsidiary of Globaltality Holdings and one of the five business unit under Globaltality Holdings .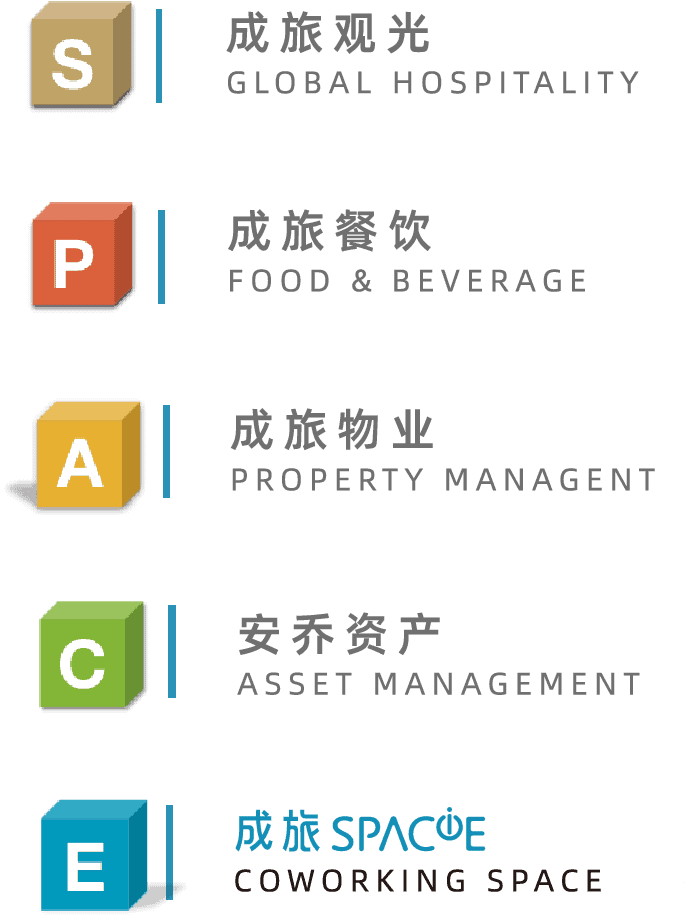 Globaltality Holdings mainly focus on the market of Mainland China and Taiwan, and has been deeply involved in hotel, property and asset management for many years. In the future, SPACiE will offer greater value to our client.
Space is an invisible catalyst,
silently empowering each user.
HEQIAO Property Management
Founded in 1995, the first batch of property management companies to pass the ISO system certification.
Block A/B, Heqiao Building, No. 8 Guanghua Road, Chaoyang District, Beijing
+86-010-65811177
ANQIAO Asset Management
The investment management company under the Globaltality Holdings, which conducts the development, acquisition and leasing management of high-quality asset projects. 
CHENGLV Global Hospitality
Focus on hotel management, hotel development planning, brand franchise services, and hotel business promotion. The goal is to become the most promising hotel group in the tourism market in Asia.
Park City Hotels
A metropolitan style hotel. The design is based on the principle of "warm and convenient, modern and elegant", and provides bright and comfortable guest rooms, cordial and professional services.
Park City Inn x Hostel
A new form of youth hostel. Provide passengers with more convenient and comfortable services, allowing passengers from all over the world to share their stories and travel experiences.
Park City Banquet Plaza
Providing diversified services such as wedding banquets, corporate events, conference dinners, catering and takeaways, with professional catering and considerate services.
Park City Cuisine
The professional catering team has created a variety of delicious dishes, the first choice for gift giving.  Simply enjoy delicious food at home, "eat easily" and "cook happy"!
C.E.O. Beef Noodle
Taiwan's famous authentic food! It took three years and hundreds of improvements to continuously adjust the ingredients, soups, and tastes.