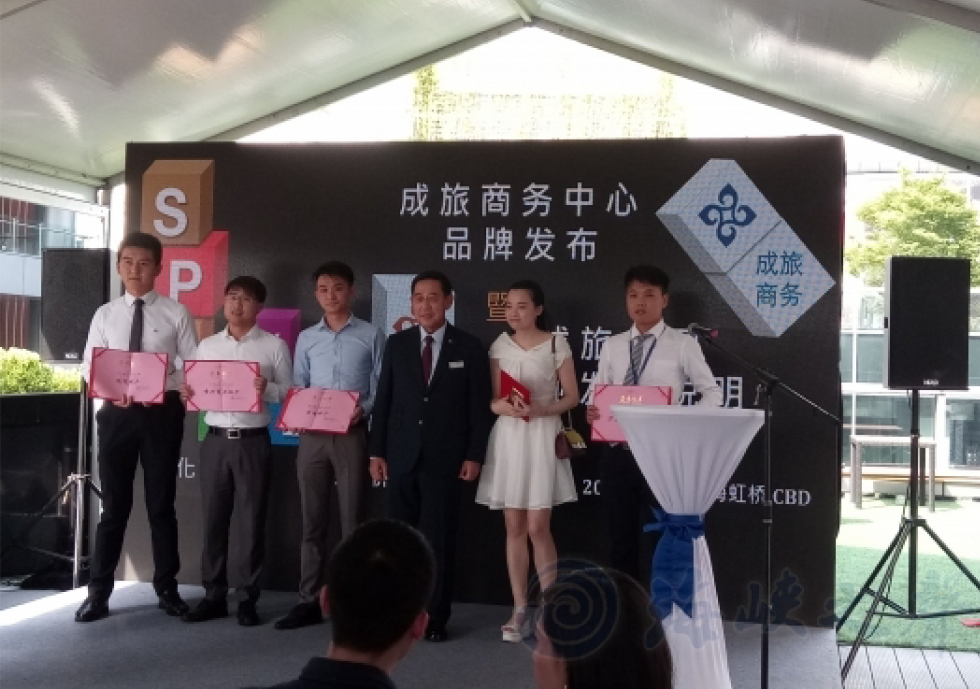 Voice of the Straits, Shanghai, July 13 (Reporter Cheng Juanjuan) Under the wave of mass entrepreneurship and innovation, shared office spaces that provide rent and preferential policies for start-ups in Shanghai, Beijing, Chengdu, and other cities have developed rapidly. On the 12th, Taiwan Globaltality Holding, which is known for hotels and property management, announced its official entry into the market of shared office leasing on the mainland. Starting from Shanghai Hongqiao Business District, it will create a new form of space operating targeting small business offices and take a bit of the cake of the market share in the mainland office leasing.
On the afternoon of the 12th, Globaltality Holding held the 2017 brand strategy conference in Shanghai Hongqiao CBD. This brand conference officially took SPACiE as the direction and goal of its service development and took "optimizing space and creating value" as the main axis of brand management. In the future, SPACiE will also develop in several directions in terms of space management services: including space sharing (S: Sharing), space beautification (P: Packaging), space application (A: Application), space integration (C: Combination), space transformation (E: Engineering).
Huang Bingzhang, Chairman of Taiwan Globaltality Holding, said that the group has been deeply involved in the related industries of hotel and property management for decades, and has always positioned itself as an operator in space which provides a variety of space-related services. This time to promote the SPACiE brand strategy, Globaltality Holding especially reorganized SPACE with an "i" to create a new space management thinking. It disassembled the English word SPACE into five letters: S, P, A, C, and E, then took 5 words starting with these five letters to formulate a strategy for Group's brand development in terms of development projects, development directions, and development goals.
In the opinion of Chairman Huang Bingzhang, the market in the first-tier cities in mainland China is a very important part of GH, and preparations were started early. Shanghai's superior geographical location and active economic environment have attracted GH to come here to settle down and develop. In the future, GH will integrate years of experience in asset financing consultants on both sides of the Taiwan Strait, as well as professional knowledge in property management, then bring more efficient work methods and asset maximization to business people, and present a new working form.
Taiwan GH has settled in Shanghai Hongqiao Business District with outstanding location advantages. Relying on the Hongqiao comprehensive transportation hub, the business district is a gathered area for Shanghai's modern service industry and a new platform for the construction of an international trade center. Fei Xiaomei, deputy director of SPACiE coworking space, said that the Hongqiao Business District is a high-end business center in the country facing domestic and foreign corporate headquarters and trade institutions. This time, GH settled in Hongqiao Business Center for the advantages and opportunities of the development of the Hongqiao Business District. They hope that more Taiwanese companies will settle there and share the development dividend of the Hongqiao CBD.
Ye Jianzhi, general manager of GH, introduced that combined with the geographical advantages of Hongqiao Business District, the occupancy rate of SPACiE coworking space in Shanghai has reached 80% since its opening. SPACiE coworking space combines the core feature of business, privacy, and the modern emerging idea, collaboration, and sharing. In the space and network environment, it attaches great importance to sound insulation and information privacy protection. At the same time, the construction of public space and community provides services and interactions with humanistic feelings. It is hoped that such a space can serve more enterprises that have landed in Shanghai.
It is reported that the development of Globaltality Holding is to expand the operation of various spaces around the core concept of SPACiE (space). At present, Globaltality Holding involves five business groups, including SPACiE coworking space, GH Property, GH Tourism, GH Catering, and Anchor Asset Management.
文章来源:海峡之声